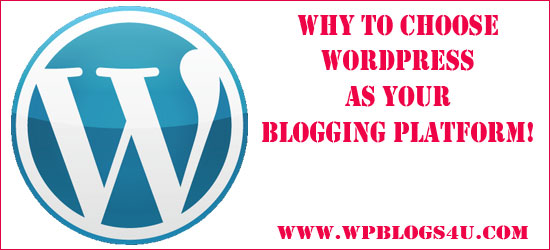 Why to Choose WordPress as Your Blogging Platform!
Undoubtedly WordPress is one of the best blogging platforms available these days. It is one of the simplest blogging tools as well, but in fact using WordPress is not that much simple as well? You need to learn a few technicalities to develop a proper blog for yourself.
You can also call this blog as which one is better – WordPress or BlogSpot? Many people compare WordPress with BlogSpot. I receive at least 2-3 queries on a weekly basis about which platform we should opt for developing a blog. I am not saying that BlogSpot is not good, it has some excellent features as well, but when it comes to chose one out of these two, my preference would always be the WP only.
Well, you all know that blogging is day by day becoming one of the most popular ways to express your opinion and sharing your opinion with the world. Slowly-slowly blogging has also emerged as one of the earning tool as well. Everyone is aware that blogging is one of the finest ways to earn money from the comfort of your home, though it is not that easy.
There are many websites available in the world of web which offers free installation of WordPress, while on the other hand there are many other professional service providers also who will charge a nominal fee to establish WordPress blogs for you. WPBlogs4u.com is also one among them. With the help of our services you can establish yourself as a full time blogger and blogging as your full time business as well.
Like many others, I too started my blogging journey with BlogSpot, as it was free, and as I was not that much aware about which platform I should use, I started my first blog for free only. Very soon I realized my mistake and I started my first blog I News India in WordPress only. In my opinion WordPress is one of the most professional blogging platform we all have at the moment. Once I started I News India, then I never look behind and always opted WordPress for my blogging needs.
Here are a few reasons why we should opt WordPress as the blogging platform:
For a newbie design of the blog is one of the major concerns. Though I came to know that these days BlogSpot's are also coming up with some fantastic designs but if you are using WordPress you can have multiple options to go for the unique design of your blog. Either you can choose any free WordPress themes or you can also opt for some Premium WordPress themes as well.
It is not like that you need to invest too much on Premium WordPress themes; frankly you can even get it for as low as $9 too. Plus, if you don't want to invest on premium themes, you can also get multiple options in free themes. You just need to do a little bit of customization of the same and you can have a unique looking blog for yourself.
Other than these you can even hire a designer to design a professional theme for yourself, which can provide a distinct look to your blog and match with your professional website. But then it will cost you a bit high, but yes it will be better for your brand value.
Ideally we should opt for paid themes, as they will provide you much needed supports, but then free themes are also good, if you know a little bit of customization. Majorly all my blogs I News India, Tech Acid, Make Your Health, etc. are developed with the help of free themes only. Though free themes are having some sort of difficulties as well, which we are going to discuss in coming days.
Well, another reasons why I love WordPress over any other blogging platforms is the availability of different sorts of plugins through which you can do anything to make your blog unique and awesome.
Think about some task and with the help of a plugin it can be possible quite easily. Though there are instances when a bad coded plugins might break down your WordPress site as well, but then with the help of WordPress you need not to worry about, as everything is stored in a database, and you can anytime revive your blog, in case of emergency. You only need to take care of your database.
You can optimize your website with the help of SEO plugins, or you can also make your website more social with the help of social media sharing plugins.
This is yet another reason why I really like WordPress. WordPress is really too much powerful than any other blogging platform, as far as SEO friendliness is concerned. Other than this you can get some quality plugins like All in One SEO plugins or Yoast WordPress SEO plugins which are quite helpful to optimize your website.
Well, gone are the days when people were using HTML only for developing a static website, these days people are transferring their static websites as well to the WordPress platform. Reason is being the SEO friendliness of the WordPress platform and the huge support and features coming up with WordPress, allowing the site to become more user friendly, lighter and providing the vast facilities of a dynamic website as well.
With the help of WordPress these static websites are performing quite well in search engine rankings.
Yet another benefits of using WordPress is to monetize your website easily and earning through some other advertizing methods as well. With self hosted blogs you can also ask for direct advertisers who can advertise their product or services on your blog. Though it can also be done quite easily with BlogSpot, but the convenience which you can get through WordPress is commendable and un-comparable.
To build trust you need to devote so many things. Continuous efforts with your precious time you build trust among others, but with the help of free BlogSpot domains, it really becomes difficult to build trust and gain respect from users. The term of free site will always remain associated with it, and that is the reason why I don't even prefer the WordPress.com hosted sites as well.
Dear friends, you cannot build trust of respect in a day or two, you need years to build so, and opting for self hosted WordPress blog is the first major step towards the same.
I hope this blog on why to choose WordPress as your blogging platform or which one is better – WordPress or BlogSpot will give you the clear idea about why we should go for it. You can also look for other blogs on What to Choose for – Self Hosted WordPress or Free WordPress.