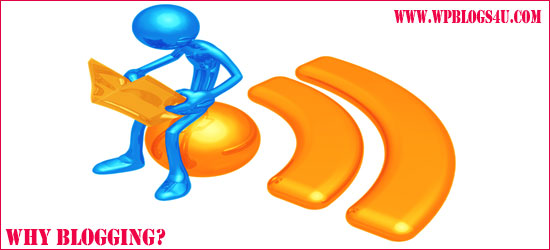 Why Blogging is required?
Well, we created this blog to help people to start blogging as profession, and we expect people to become a professional blogger, but the most basic question is that after all why blogging is required? What is the need of having a blog?
To be very precise, blogging is like sharing your diary with the online world. Now what is there in your diary that others will prefer to read it? Well, blogging is a bit different than writing diaries. Blogging is all about sharing your knowledge and information about what you do and how you do exactly to the world, so that others can get benefit of the same.
Blogging is a way to connect to the world. A few years back no one was aware about me as well, but today many of my readers are fully aware about me, and they know about me only through my blog. Whatever I write there, whatever I share there through those blogs only people come to know about me.
So ultimately you will realize that with blogging you can share your thoughts with world and build a unique identity of yourself.
Well whenever people think about starting a blog the very first thing which came into mind is what I should write. I am doing these works, but I guess I won't be able write something on this, and then what should I choose?
The answer is pretty simple. If you love traveling then let's have a blog on travel. Go and share your experience with your reader base. If you are good into cooking, then don't worry let's start a blog on cooking only. Share different varieties of food items which you can prepare with your friends. If you do love clicking pictures, let's have a blog on your pictures only. People will also love to see them. Ultimate thing is that you can create blog on any topic which you want.
Well, frankly speaking I have realized that it has changed vastly during last few years. Now it has not limited to sharing your feelings only, but it has changed a lot and turned into a business and social connection. Now you can even earn through your blog, unless your blog is getting good amount of traffic. No one can stop you to become successful if you can proceed in a very systematic way.
Well, I will prefer to write another blog on this topic, but just to give an idea about how to make your blog more popular, here are a few things which you can do with your blog:
Well, writing or creating interesting blog posts is not that easy. We all know that we can have different books associated with a single topic, but if we read all of them, we found a particular one as more interesting than the others. To be very precise it is the human nature, they like the things which are presented to them in a very good manner.
Consider this situation, you reached to a blog and started reading it, but did not liked it at all. What will you do, you will definitely go and click on the small X button of your browser so that it can be closed off, like this one:
So the point is that if your blog is not much engaging people won't like this and will surely either click on back or close button of their browser. Thus to make your blog popular you must need to develop engaging and interesting blogs.
You might ask me, why did I use the picture above? It was a simple way to use some illustrations so that readers can understand it in a better way. Simply as we say that a picture is worth around thousand words, which apply to the blogs as well. Adding pictures, videos, illustrations to define what you are telling will give a clear picture to the readers. They will be able to absorb what you are trying to explain.
Well, gone are the days when people were simply copying content from somewhere and use to paste it on their site. Thanks to Google which brings the Panda update and forced crappers to close their copied sites. These days' unique stuffs are very much required. Your blog will be a big hit if you write unique content only, else it won't become popular.
Creativity is something which is very much required to make your blog popular. Whatever you are writing is actually already written by so many people at different places. So why will people come to read your blog?
The clear answer to this is that it is your creativity which can convert your simple blog into different, unique and informative one, so that it can attract many people.
Well, to be very honest, I might not be that much creative or I might not be able to produce interesting blogs which can become viral, but still I am trying my best to bring the best from me. I am into this blogging industry since last five or six years, and after running a few blogs, I created this blog so that I can help others to have a blog of their own. So what are you waiting for? Let's start blogging and become a blogger.
You might also need to read this blog post: Why to Choose WordPress as Your Blogging Platform!