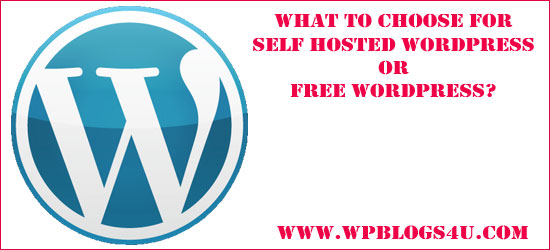 What to Choose for – Self Hosted WordPress Or Free WordPress?
As I mentioned in my last blog on why to choose WordPress as your blogging platform that self hosted WordPress blogs are better compared to free WordPress sites, but it is a fact that at the beginning level every newbie faces these two major questions:
One – which one is better – Self Hosted WordPress Blogs or Free WordPress.com Blogs?
Second – which one is better – WordPress Blogs or BlogSpot Blogs?
Well, in this post we will clarify about the differences between self hosted WordPress blogs and free WordPress.com blogs, for differences in WP and BlogSpot blogs we will write yet another blog.
Coming back to the topic of discussion, almost every newbie WordPress blogger remain confused with the free option or the self hosted blog one which obviously needs a small amount of investment. Many people when think about starting a blog consider the free option first, as it won't need any investment, and you can become the proud owner of a blog very quickly.
Well, frankly speaking, it all depends on your own requirement. If you are planning to do blogging for fun only, then obviously you will find the free one as the best options, on the other hand if you are considering to start a blog to promote your business, or to start an earning through blogging then obviously self hosted WordPress blogs are the best option for you. Well, obviously self hosted or WordPress.org blogs are more professional compared to any other free blogs like WordPress.com or BlogSpot's or even Tumblr one.
So guys if you are serious about starting a blog and blogging as your career, then you should go for self hosted WordPress blogs from WordPress.org site. Here are a few reasons of doing so:
Well, themes being one of the major attractions of opting WordPress for Blogging Platform. With free WordPress.com you are having limited access to the themes, which are free themes and also you are not eligible to modify the theme CSS or other codes within them.
On the other hand with self hosted WordPress blogs you can be able to fully utilize the themes. You can have the access of free themes, as well as premium themes are also handy and you can even change the CSS and codes of the same as well.
Considering the use of plugins which being the prime reasons for opting WordPress as your blogging platform, with free WordPress.com site you don't have the privileges of using any plugins. There are actually some built-in plugins though, those are not that much flexible and usable as that which are available with self hosted WordPress blogs.
With WordPress.org blog you can upload any free, paid or self made plugins that you want. This is why we can claim WordPress as the best possible CMS available with us.
Consider the primary reasons why you choose blogging, and this being the earning from home features. With free WordPress blogs you are having very limited options available. Actually you are not allowed to sell ads on your free WordPress.com sites unless your blog started to receive more than 25000 page views per month basis.
With self hosted blog you have the freedom to use as many ads as you want and you can use any program to earn. This is one of the finest features available with self hosted blogs and that is why I always recommend using WordPress.org from WordPress.com.
Though self hosted WordPress blogs are a bit expensive as you need to incur the charges for domain name and web hosting. While with free WordPress.com hosting you can get it for free. It will only cost you a domain name if you don't want to go ahead with the sub-domain and choose your own domain name for your blog. Till 3 GB of storage space your blog will remain free over there, but in case of self hosted WordPress.org blogs you need to invest at least these much.
With high traffics your expenses will increase in case of self hosted blogs. But as the traffic on your website will increase, simultaneously your earnings will also increase.
Well, I think you all are now aware about the differences between the two types of WordPress blogs and you all are now sure about which one to opt for. You can anytime contact us to get a clear picture of your own requirement, and we will surely help you to rectify the situation.
Please don't hesitate in sharing your opinion about this blog of ours. You can comment about it at the below section.