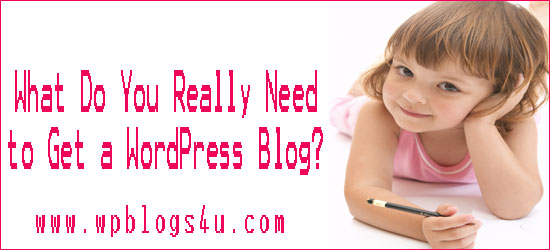 What Do You Really Need to Get a WordPress Blog?
So you have decided that you too will have a blog, a place where you will share your opinion about some niche on which you do have interest or you are the master of that particular field.
Obviously everyone else will prefer to read your thoughts, as people always want to know more about anything related with their industry.
Also, these days' blogs and blogging are getting too much boom as well. These days Google is also giving too much preference to business websites which do have a blog and do regular blogging.
As I already mentioned in my blog posts why to choose WordPress as your blogging platform and what to choose for – self hosted WordPress or free WordPress, it is quite clear that I would suggest everyone to have a blog with self hosted WordPress only.
Here comes a big question – What Do You Really Need to Get a WordPress Blog?
How to Get a WordPress Blog?
Read on this blog of mine to get the answer to it.
A Domain Name
To have a blog, you must need a domain name. Domain name is the address of your website or blog and represents the global identity of your site.
A domain name can be anything, depending on your choice, but always remember that this is the prime key through which anyone will open your site. Thus it should be easy to remember.
While choosing a domain name you need to understand a few things, it has two sections one is the domain name and the other one is its extension. Like for my blog wpblogs4u.com, wpblogs4u is actually the domain name, while .com is the extension associated with it. .com is the domain name associated for any commercial website, while you might have other domain extensions as well like:
.org – for Organizations, usually taken by some trade organizations or non-profit organizations.
.net – for Networks, usually taken by internet service provider sites or business networks, or groups for their intranet purpose.
.info – for Informational sites, usually the most popular than .com, since anyone can use this.
.biz – for business sites, usually taken by small business web sites.
.mobi – for Mobile sites.
.us – for American websites.
.co – another alternate for .com domains.
.in – for Indian websites.
.tv – for Media websites.
Other than those domain name extensions you might also have so many different extensions and second level extensions like .cc, .ws, .co.uk, .co.in, .org.uk, .org.in, .net.in, etc. that you can have different options available while choosing a domain name for your website.
Now let me tell you something about some common Criteria for Choosing a Domain Name.
Tips on How to Choose a Domain Name
Availability of Domain Name
Though you decided to develop a website with the name let's say alokvats.com, and you planned everything related to this, but later on you realized that this domain name is already taken by me, so what will you do then?
So the availability of domain names is one of the most important criteria for choosing a domain name. While deciding to purchase a domain name for your website you might need to research a lot. Read on more to know about how to go through choosing the right domain name for your new website.
Relevancy of Domain Name
Relevancy of your domain name matters a lot. If you want to have a blog on pets, then you need not to select a domain name which is associated with social media tools. Obviously you will have to look for a domain name, which will be associated with pets only.
Thus if you are going to choose a domain name for your business, then your business, brand and industry which it serves matter a lot for deciding the domain name for this blog.
You might think that weather I should go with a generic domain name or I should go with the brand name only? I personally feel that a domain name is something which should match with the content of your website later on, or the brand which it is reflecting. Like for this blog I wanted to have a domain name which can give the impression of – WordPress Blogs for You, and that's why I choose wpblogs4u, as wp is the most popular short name for WordPress and 4 u is the commonly used short term for the term "for you" on social media these days.
Length of Domain Name
Length of domain names matters a lot. It might have maximum of 67 characters in it, but don't you think that people will never remember a domain name something like alokvatssearchengineoptimizationguyfromnewdelhi.com or something like wordpressblogsforyou.com?
Also they won't look professional as well. Though you might argue with me that even the domain name wpblogs4u.com is not looking professional, but the point which might favor it is that it is serving its purpose.
Thus while thinking about a domain name, always consider the length of it, try to make it as shorter as possible.
Check a Few Keywords
Though with EMD updates of Google, people decided not to go with domain names with exact matching keywords, but I would suggest that you should consider about say 4-5 keywords related to your future blog. Let's say if you want to create a blog for Debt then you might think about using keywords like debt, debt consolidation, finance, etc. Now you can add some prefix or postfix with these terms and you can have a good looking domain name.
Uniqueness of Domain
Don't try to copy the domain name from any popular website, people will confuse with it and prefer not to visit your blog. Uniqueness of a domain name is very much required. For your branding purpose as well, uniqueness of your domain name is too much essential.
Avoid Hyphenated Domain Names
I usually don't prefer using hyphens in between a domain name; people usually don't prefer to type these types of domain name. As for an example, if I would have developed a site like alok-vats.com then it is quite possible that people will forget this – in between and would definitely have landed to alokvats.com, while it might have someone else website.
Using hyphen in domain names, becomes hard to pronounce or refer to someone else verbally, thus it has higher chance of not reaching to the proper site.
Prefer .com Domain Names
Always try to have domain names with .com extension, except the case if you are thinking about a country related domain name, like I recently suggested a domain name like seogazette.in to my wife for her new blog, as the purpose was to help Indian SEO guys only, so I suggested having .in domain name.
So to conclude the idea about a domain name for your blog, always have a domain name which should be unique, have easy to remember and type, as short as possible, should relate with your content in future, set yourself different than others and establish your brand, and should not have any hyphens in between. It should preferably have a .com extension.
Where to Buy a Domain Name?
Considering all these above facts you might have decided a domain name for your blog, but the bigger question is through which we should buy it?
Well, my response in this regard is quite simple. I always prefer and suggest everyone else to have domain name from Godaddy only. They are the most reliable name as far as domain names are concerned, plus the other benefit with them is that you might be able to get some discounts or offers too, which usually runs throughout the year.
What Next?
So you purchased a domain name now, you must be thinking about what should I do now? Read on more to get the answer.
Web Hosting
Web hosting is something which is very much required for having any website. It is like a plot of land on which you can build a dream home. As you know if you don't have the base (land in this case) you won't be able to build the home. Similar with websites or blogs you need a web hosting (either of your own or ranted from someone else) to host your website.
As far as web hosting is concerned, you might get many options with it in market, but you should always go with some reliable service provider only, like I do prefer Hostgator only for hosting my websites.
The reason why I do prefer them over any other hosting providers is that they are known for their world class support facility, which you cannot get from any other company, it is my own experience. Whenever any help is required, you can get from their team. During last 4-5 years I too faced so many problems, but with the help of their support team it got resolved quickly.
Second best thing with few reasons to use Hostgator for web hosting purpose is that they are the best available services for WordPress blogs. WordPress, as you all know is the best possible Content Management System and one of the largest open source blogging platform, so to have a WordPress blog you must need a hosting provider who can be able to deal with the technicalities of the same.
The best thing with Hostgator is that they have very rare and less downtime, compared to any other service provider, plus they also have different coupons available through which you can get hosting for a very less amount. I am planning to write another post on why to choose Hostgator for hosting your WordPress blog. Stay tuned to us, and we will bring it very soon. You might also subscribe to our feed so that you can be able to get the information about once this post of mine will be live over here.
Web Hosting Requirements for WordPress
Well, requirement associated with web hosting for WordPress blogs or websites is quite simple. You just need a hosting provider who can provide you these things:
PHP version 5.2.4 or any greater version
MySQL version 5.0 or any greater version
With these two things, you only need a small information from your web hosting provider and it is weather your hosting provider provides you the mod_rewrite Apache module or not.
If your web hosting provider is having these things, you can go with it.
So the bottom line of the story is that you simply need a domain name, and a web hosting for it and you need not require anything else to get a WordPress Blog. Once you will have these things ready you can easily have your WordPress blog or site ready.
You might ask me, what are the ways through which I can develop it, so stay tuned with us for knowing about the steps required to develop a WordPress blog. We will publish this very soon.
Tags:
Availability of Domain Name
,
Blog
,
Blogging
,
Blogging Platform
,
Blogs
,
Business Websites
,
Common Criteria for Choosing a Domain Name
,
Content Management System
,
Criteria for Choosing a Domain Name
,
Domain Extensions
,
Domain Name
,
Free WordPress
,
Get a WordPress Blog
,
Google
,
Hosting Providers
,
How to Get a WordPress Blog
,
Length of Domain Name
,
Open Source Blogging Platform
,
Reasons to Use Hostgator
,
Regular Blogging
,
Relevancy of Domain Name
,
Self Hosted WordPress
,
Social Media
,
Tips on How to Choose a Domain Name
,
Web Hosting
,
Web Hosting Requirements for WordPress
,
Where to Buy a Domain Name
,
Why to Choose WordPress
,
WordPress as Blogging Platform
About Author
wpblogs
Alok vats, who is the owner of WordPress Blogs For You, brings more than nine years of experience in the field of Internet Marketing to this blog. Prior to starting this blog he has the experience of successfully running the blogs like I News India, Tech Acid, Make Your Health, etc.